Dopolarians, Garden Party 
These are notes on the compositions and performances for the Dopolarians release, Garden Party. 
Cover painting by David Hall. Cover design by Chad Anderson. 
Personnel: 
Alvin Fielder — Percussion 
Kidd Jordan — Tenor Saxophone 
William Parker — Bass 
Chris Parker — Piano 
Kelley Hurt — Voice 
Chad Fowler — Alto Saxophone, Saxello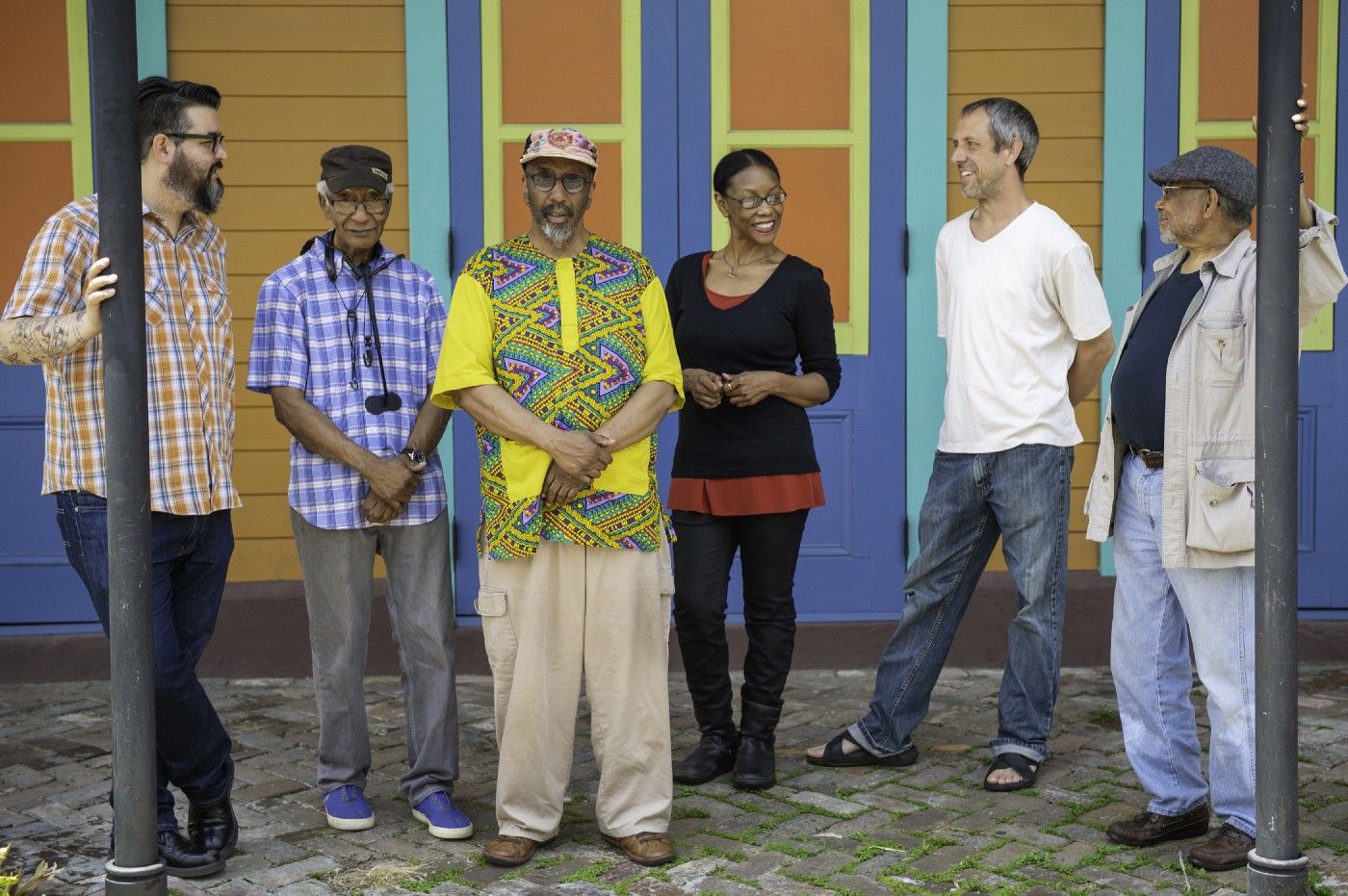 Photo by Marc Pagani, left to right: Chad Fowler, Kidd Jordan, William Parker, Kelley Hurt, Chris Parker, Alvin Fielder 
We recorded this at Marigny Studios in New Orleans, Louisiana in early June 2018. We all traveled in to do the session near Kidd Jordan so he wouldn't have to travel as he had recently gone through some challenges with his health. This was his first time playing tenor saxophone in months. 
The group and the session itself is a collection of reunions. Chris & Kelley and Chad played together regularly but had lost touch for almost 20 years. Alvin and Kidd were old, dear friends and collaborators, going back to when they formed the Improvisational Arts Quintet decades previous to the session. William had, of course, played extensively with Kidd and Alvin over the years. Chris, Kidd, and Alvin had all collaborated many times previously, including Chris's performance on Alvin's last session as a leader, "A Measure of Vision". Despite the many connections, this was the first time this group of people had come together. 
Apart from William, who hails from New York, Dopolarians is a decidedly southern affair. Alvin is from Meridian, Mississippi. Kidd is from New Orleans. Kelley is from Memphis, Tennessee (where Chris and Chad both met her), and Chris and Chad are from Arkansas. 
Sadly, this session was the last date Alvin would make. He fell sick in late 2018 and passed away on January 5, 2019. Alvin was and is an inspiration to multiple generations of jazz musicians, a dear friend, and a mentor. We miss you, Mr. Fielder.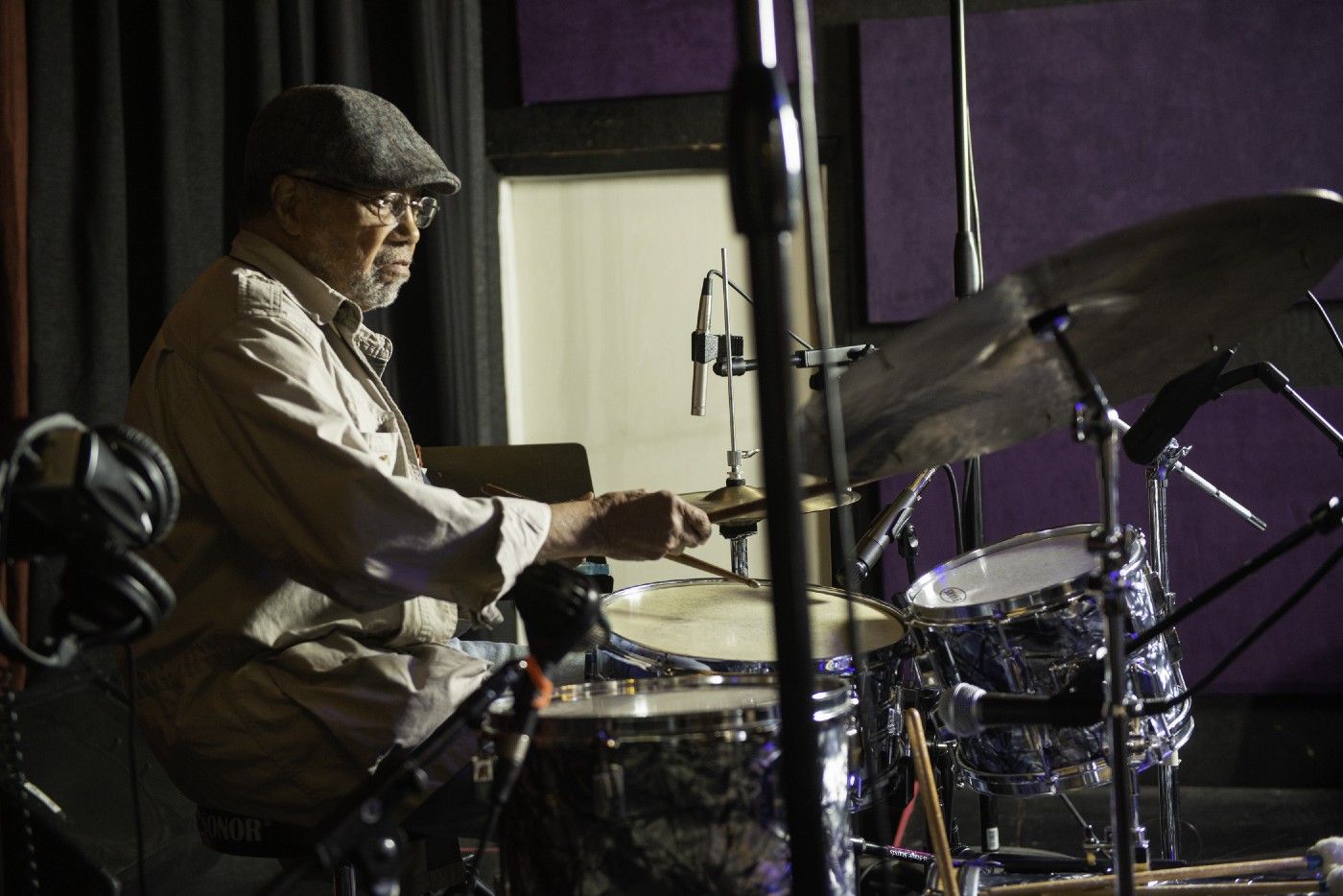 Alvin Fielder — Photo by Marc Pagani 
C Melody by Chris Parker, Alvin Fielder, Kidd Jordan & William Parker — When we were preparing for the session, Chris told stories about playing with Kidd in New Orleans and creating tunes on the spot. One person starts playing and the rest of the band plays the tune as if they already know it. We did a few pieces sort of like this on this session. C Melody started with no plan. Just Chris setting up a melodic motif. The melody becomes an ostinato, repeated in variation throughout while the rest of the group improvises around it. Chris and Kidd frequently play together as one, loosely connected instrument. Kidd's ear is remarkable as always. For a totally free piece, it's surprisingly hummable on subsequent listenings. We wanted to make accessible, beautiful free music in this session. C Melody embodies this. Enjoy the rock and roll ending. It's almost corny. 
Dopolaria by Chad Fowler — Broken Italian words crammed together, 'Dopolaria' literally (but incorrectly) translates to "After the Aria". It's a love song. The theme is inspired by a fragment of a Puccini melody. The goal was impressionist beauty and catharsis. 
Garden Party, by Kelley Hurt — You know how married couples make up cutesy names for each other and their pets? Or how they might make up songs and do other rituals in private that they wouldn't dare share outside the home? Garden Party comes from that place. As Kelley describes in the introduction, it's a song she sings at home when she sees the bunnies come out in their garden behind the house. It's an improvised children's song for their home. Alvin says, "I've never played that straight before!" 
Father Dies; Son Dies, by Chad Fowler — There's a Zen koan about a rich family asking a zen master to write something for them which would symbolize prosperity to come. The zen master comes back with the shocking phrase: "father dies. son dies. grandson dies." Death is inevitable, but there is a natural order to things. Father Dies; Son Dies is a meditation on impermanence and the inevitability of death. 
Guilty Happy, by Chad Fowler — The title "Guilty Happy" refers to the feeling you have when you first notice a moment of happiness during the process of mourning a loved on. You know it's OK — even healthy, but it still feels wrong to feel alright. The melody is manic and repetitive (the score actually says "play until you can't stand it"). The solos weave between major and minor centers. As Kidd improvises, the piece dissolves into an unexpected, melancholic ballad. Alvin evokes Max Roach as William holds down a groove with some hint of unwritten changes for the tune. Kelley's vocal work during the ballad section is haunting. Alvin, as always, has the last word. As William put it directly after the tape stops, "you could cash a check with that snare roll, Al!" 
Impromptu, by Chris Parker — Composed in the moment at a rehearsal, Chris's tune is a joyous, deranged bebop piece. It's free but not really free-bop. We played the style un-ironically but without constraint. During a rehearsal, Alvin suggested bringing back the bridge and "playing it straight" on occasion, which gave it a cohesion of form but without any rigidity or need to stick to changes, number of measures, or even a specific tempo. The bass and piano solos on this tune are a highlight of the entire record.